A Word To The One Depressed Over Sin
Article by John Samson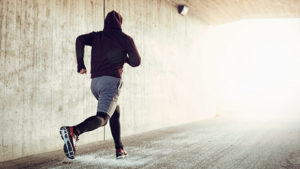 Where do you run to?
So you are a Christian and you messed up. You know it. No one can excuse what you did, least of all you. Your conscience (while not always a 100% reliable source as it has to be trained by the word of God) accuses you. You sinned! You did it – and you know you should not have done it. Nothing can change this reality.
The hard facts mean that you are now disillusioned about your Christian life. You can feel the dark and dismal clouds of depression forming overhead. You feel like you will never see the warmth and comfort of the sunlight again.
You have confessed your sin to God (and perhaps even to those you sinned against) but you just don't feel like you are forgiven.
So, the question is "what are you going to do now this has happened?"
You don't want logic or reason right now – you want to lay down in the stench of your sin and mull it over for a while.. an hour or two, a day or two.. a month or two… why? Because this is just too much this time. You went too far – you did it once again - when you swore you would not – and now, not even God wants anything to do with you… you think.
If that is how you feel, allow me to lay out your options.
You can stay in your depression and beat yourself up over and over for the sin you committed. You can listen to the accusations of the enemy that are being whispered, no, more like, shouted in your ear. You can do that. Not legitimately of course. But no one can stop you, if that is your choice.
You can think about divine election and wonder if you are among the elect. Your thoughts gravitate to the very unpleasant consideration that you might not be truly one of His. You can dwell on this and by doing so, make your pit that little bit deeper moment by moment, minute by minute. You can set up a bed in the pit, and live the rest of your life there, never to surface again.
Yes, you can do that too.
OR, you can recognize your sin was every bit as bad as the devil and your conscience says it is and you can do something about it.
Confess it to God (if you haven't already done so) and believe the promises of God.
These promises are not about the greatness of the Christian – that you will be better from now on – or that by certain works, you can earn God's favor again.
Listen, you never gained God's favor for even a second by means of something you did. Even the repentance and faith you once expressed were gifts from an all gracious and loving God.
No, the promises of God concern the wonder and worth of the perfect sacrifice of Christ who died in the place of the most guilt filled sinner on earth.
And that – my friend – is your only way out of this pit that has been dug for you.
So – let me spell this out. Boiling it down to two - here are the available options before you.
Option 1: Doubt God's promises
Option 2: Believe God's promises
It is really that simple, and that hard!
We could talk for hours and analyze the pit.. in fact, we could have a survey team come in and get accurate measurements of the pit, noting the slime on the sides of the walls and the particular stench of the pit. It is not nice - we get it!
We could note the irritating feeling of abandonment you feel…
Yes, we could do that.

Today marks the day...
Today marks the day when we move to video as well as audio on our youtube channel. If you like what you see, feel free to subscribe to the King's Church TV channel:
The Worship God Seeks
Text: John 4:24
Purity of devotion and purity of doctrine in the life of the believer.
In Spirit & Truth
Text: John 4:15-24
The Father seeks those who will worship Him in spirit and truth. What exactly does that mean?
Spirit & Truth Documentary
From the creator of "Calvinist" comes a documentary about how God wants to be worshipped.
Its a very exciting and needed project. You can support it by going to this link.
Seven Charismatic Deceptions
As a guest on Chris Arnzen's "Iron Sharpens Iron" podcast (Thursday, July 26), I got to talk about seven deceptions found in charismatic circles.
A Unique Messenger With A Unique Message
Text: John 3:31-36
Jesus has unique qualifications as a Messenger and brings to us a message that must be heard and believed.
The Preacher's Task
Dr. Steve Lawson
The Preacher's Task
Text: 1 Tim. 4 - 13 Until I come, give attention to the public reading of Scripture, to exhortation and teaching. 14 Do not neglect the spiritual gift within you, which was bestowed on you through prophetic utterance with the laying on of hands by the presbytery. 15 Take pains with these things; be absorbed in them, so that your progress will be evident to all. 16 Pay close attention to yourself and to your teaching; persevere in these things, for as you do this you will ensure salvation both for yourself and for those who hear you.

Expository Preparation:
Text: 2 Tim. 2:15 - Be diligent to present yourself approved to God as a workman who does not need to be ashamed, accurately handling the word of truth.
Effective Evangelists:
2 Tim. 4:1 I solemnly charge you in the presence of God and of Christ Jesus, who is to judge the living and the dead, and by His appearing and His kingdom: 2 preach the word; be ready in season and out of season; reprove, rebuke, exhort, with great patience and instruction. 3 For the time will come when they will not endure sound doctrine; but wanting to have their ears tickled, they will accumulate for themselves teachers in accordance to their own desires, 4 and will turn away their ears from the truth and will turn aside to myths. 5 But you, be sober in all things, endure hardship, do the work of an evangelist, fulfill your ministry.
He Must Increase, I Must Decrease
Text: John 3:22-30
In the time of transition from popularity to obscurity, John the Baptist knew his place and the task he was called upon to do, delighting in the fact that Christ was now coming to greater prominence than him. We can learn much from his unparalleled humility.
From New Age to Christ
In this powerful interview, Steve Bancarz describes his dramatic conversion to Christ, and why he walked away from being a high prominence writer in the New Age movement with a monthly salary of around $40,000 a month. Along the way, he discusses the pervasiveness of the movement and its teaching which includes pantheism, reincarnation, aliens, UFO's, yoga, hypnosis and its connection with the demonic realm. You do not want to miss this one!