The Word Became Flesh
Text: John 1:14
In the first century – many believed in the "gods" – whether we speak of Rome or of Greece… polytheism was everywhere. In Greek thinking – the spiritual is good – matter is evil. Therefore it seemed unthinkable in their minds, that God would become a man.
A heretical group known as the Docetists denied the true humanity of Christ, not on biblical grounds, but based on the culture of Greek thinking. Jesus only appeared to be a flesh-and-blood man; his body was a phantasm.
Paul dealt with this heresy constantly: Col 2.9 "In Christ dwells all the fullness of the Godhead BODILY." The Apostle John also: "By this you know the Spirit of God: every spirit that confesses that Jesus Christ has come in the flesh is from God" - 1 John 4:2. "For many deceivers have gone out into the world, those who do not confess the coming of Jesus Christ in the flesh." - 2 John:7. The mystery of the Gospel is that God indeed became a man in the Person of Jesus Christ - truly God; truly man.
What does this mean for us? The answer is mysterious, dazzling and amazing!
Christ Crucified
1 Corinthians 2:1-5
Guest speaker Rob-roy Nelson preached this morning - a powerful word on "Christ crucified!"
When Paul came to Corinth there was something he didn't do; something he did do, and then he tells us why he did it. A message all need to hear.
The New Birth: Signs of Life
Text: John 1:12,13
Before someone can enter the kingdom of God they need a miracle. More than that, they need to BE a miracle - to be born again. Amazingly, this new birth is not under man's control. The right bloodline (family or national heritage), human effort or even human will are no factors whatsoever. God alone can do this and when He does, He does so Sovereignly and invisibly.
Jesus compared the new birth to the activity of wind. Wind seems to have a mind of its own and yet wherever the wind blows, evidence is left behind. What kind of evidence should each of us be looking for that might assure our hearts that we indeed have been born of God?
What Happens In The New Birth?
Text: John 1:9 The true light, which gives light to everyone, was coming into the world. 10 He was in the world, and the world was made through him, yet the world did not know him. 11 He came to his own, and his own people did not receive him. 12 But to all who did receive him, who believed in his name, he gave the right to become children of God, 13 who were born, not of blood nor of the will of the flesh nor of the will of man, but of God.
In order for someone to become a child of God, the new birth is an absolute necessity. Yet nowhere in Scripture are we told how to be born again. Why is that? What role does man play in this? What does God do when He regenerates a soul? These questions and more are addressed with stunning clarity in the text before us.
Exposing the Word of Faith
"Take no part in the unfruitful works of darkness, but instead expose them." - Ephesians 5:11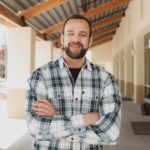 Costi Hinn
For anyone wishing to know about the heretical doctrines of the Word of Faith and the modern day counterpart of the NAR (New Apostolic Reformation), the following two iron sharpens iron radio broadcasts (with Chris Arnzen) featuring guest Costi Hinn (nephew of Benny Hinn) are especially recommended. - JS
1. Costi Hinn Testimony - Growing up in the Hinn family and an introduction to the heresies. (Show date: September 8, 2017)
2. Costi Hinn - Historical Survey - The Roots of the Word of Faith - how the heresies started. (Show date: November 7, 2017)
A Fresh Look at the Five Solas (Sermon Series)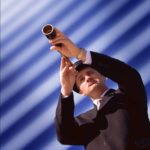 Over the last five Sundays in a sermon series at King's Church, we have been taking a fresh look at the Five Solas of the Reformation. In that time, we have drunk deeply at the well of salvation and seen the Lord Jesus Christ and His power to save in new and fresh ways. It has been a joy! I hope the series can be a blessing to others also, and so make these sermons available here. - John Samson
Sola Scriptura: Sermon: The More Sure Word
Sola Fide: Sermon: The Heart of the Gospel
Sola Gratia: Sermon: Every Christian is a Miracle
Solus Christus: Sermon: Federal Headship – Adam and Christ
Soli Deo Gloria: Sermon: The Meaning of Life
The eBook and Audio Book Version of my new book is also now available at this link.
God bless.

The Five Solas: Now in E-Book and Audiobook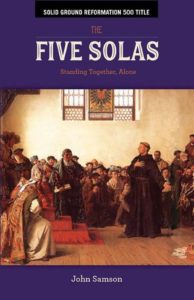 As the Bible came to be read in the common language of the people, the great central truths the Bible proclaimed were recovered, often at great cost to those who came to embrace them.
The Reformation recovered and highlighted glorious Scriptural truths which have been expressed in five memorable phrases, now known as the Five Solas. Properly understood, these Five Solas bring us back to the very heart of the Gospel of Jesus Christ.
ANNOUNCEMENT: My new book/booklet "The Five Solas - Standing Togther Alone" is now available in EBOOK and AUDIO BOOK at this link. I trust you will find it to be a blessing in these new formats.
ENDORSEMENTS:
Recently wrote the author these words: "You have succinctly and clearly distilled the essence of the 'Solas.' May God mightily use your book for His glory. Thank you for the encouragement in the gospel you have brought to me." - Dr. R.C. Sproul
"Some authors make you read three chapters before getting to the first point in their outline. If you wish to understand the foundation of the solas of the Reformation but would like to do so in under an hour, John Samson provides you with the basics right here." - Dr. James White
"Get this book! Then get several more to share with your friends and family. John Samson has the remarkable ability to communicate essential truths with an undeniable passion and faithfulness that is winsome, clear, and devastating to the opposition. The people of God in this generation are in need of these old truths: the same truths that transformed the early church and led our heroes (throughout history) into living lives that changed the world. Go sell 100 of your vapid, modern Evangellyfish books and turn that money into getting this book into the hearts and minds of Christians everywhere." - Jeff Durbin, Pastor, Apologia Church, Tempe, AZ
"Recent years have seen a number of key anniversaries connected with events and people who were vital catalysts in the Protestant Reformation. Thankfully this has resulted in a renewed focus on the 'five solas' – a convenient shorthand list of the Reformers' key convictions. Throughout church history, wherever these principles have been stressed and adhered to, the church has always flourished. So it is a highly encouraging trend. I'm thankful for this excellent booklet by John Samson; a cogent, focused, and accessible study of the solas that not only reminds us what these principles mean, but also shows us why they are important – and why they must stand together." - Phil Johnson – Executive Director, Grace To You
"This is such a crucial topic; and having read many pieces written on the five solas, this one stands out for not only being theologically sound, but also clear and concise. It is written in a way that just about anyone could pick up and understand. I am thankful that God has raised up his servant John Samson for this deeply needed work; a work we ought to get into the hands of as many people as possible." - John Hendryx, monergism.com
PAPERBACK VERSION: AVAILABLE HERE
EBOOK & AUDIO BOOK (read by the author): AVAILABLE HERE

From New Age to Christ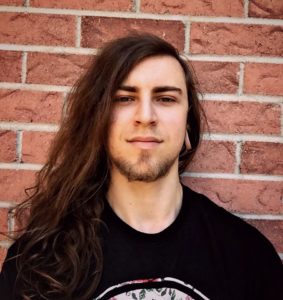 In this powerful interview, Steve Bancarz describes his dramatic conversion to Christ, and why he walked away from being a high prominence writer in the New Age movement with a monthly salary of around $40,000 a month. Along the way, he discusses the pervasiveness of the movement and its teaching which includes pantheism, reincarnation, aliens, UFO's, yoga, hypnosis and its connection with the demonic realm. You do not want to miss this one!