The Normal Christian Birth
Text: Acts 2:32-42
Medical science informs us that the events surrounding a baby's birth is a key factor in a child's development. A long, drawn out, painful and complicated birth can have a lasting negative impact and that is why it is vital that much attention is given to provide a safe, healthy process and environment for a baby. When it comes to spiritual birth into the kingdom of God, how can we make sure the new baby is off to a good start in its new life in Christ? What does a NORMAL Christian birth look like? If we could standardize the process, what things would we put in place?
Behold the Lamb of God
Text: John 1:29
EMERGENCY ALERT: Sin is deadly serious in the sight of God. God's wrath, His 'holy revulsion against that which is the contradiction of His holiness' is fully justified. The only way of escape from this inevitable and just judgment is God's provision in His sin atoning Lamb. This is not fake news! This is not a drill!
Sola Gratia - Grace Alone
I am thankful for today's opportunity to share God's word. I was able to say a whole lot on the vital theme of "Sola Gratia" (Grace Alone) in just under an hour. - JS
The host, Julio Rodriguez wrote, "Today, I had the privilege of having John Samson join me on BRIDGE Radio to talk about the Reformation and "Sola Gratia", that is 'By Grace Alone.' On today's episode, we discuss why it is only by God's grace that we are saved and not by our works or through other means. The Word of God describes the human condition as being completely unable to achieve salvation on his own. We review Pelagianism, Semi-Pelagianism, and both the Roman Catholic and Protestant Arminian view of God's Grace in relation to our salvation. What is the correct view? Do I play any part in my salvation? Well, tune in to find out!"
Here's a link to the podcast.
The paperback version of my new book "The Five Solas - Standing Together Alone" is available here. The ebook and audio version is available here.
Why Every Christian Should Be A Member Of A Local Church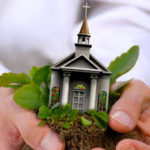 What are some really good (scriptural) reasons to commit to a specific local congregation/ body of believers as opposed to just being a "free range Christian"?
I seek to answer that question on the Iron Sharpens Iron podcast found here. - John Samson
Would You Please Just Grow Up!?
Text: 1 Peter 2:1-3
Christ the Exegete
Text: "No one has ever seen God; the only God, who is at the Father's side, he has made him known." - John 1:18
Christ's unique, eternal relationship with the Father means that He is the only authorized way to know God. The ramifications for this are breath-taking.
Grace After Grace After Grace
Text: John 1:15-17
Highlighting Christ's pre-existence once again, John goes on to portray Him as the Source of Grace. Would "grace" be the word to describe your life as a Christian? Are you living in the good of what Christ accomplished for you?
Do Modern Bible Translations Leave Some Verses Out?
17 Missing Verses in the NIV?
One of the questions out there is why are there 17 verses missing from the NIV, and were they left out for theological reasons? The answer is that while the verses references are not in the text, these verses are in the footnotes. Here is why this is true not only for the NIV but for all modern translations (other than the NKJV).
Bill Mounce explains:
The Word Became Flesh
Text: John 1:14
In the first century – many believed in the "gods" – whether we speak of Rome or of Greece… polytheism was everywhere. In Greek thinking – the spiritual is good – matter is evil. Therefore it seemed unthinkable in their minds, that God would become a man.
A heretical group known as the Docetists denied the true humanity of Christ, not on biblical grounds, but based on the culture of Greek thinking. Jesus only appeared to be a flesh-and-blood man; his body was a phantasm.
Paul dealt with this heresy constantly: Col 2.9 "In Christ dwells all the fullness of the Godhead BODILY." The Apostle John also: "By this you know the Spirit of God: every spirit that confesses that Jesus Christ has come in the flesh is from God" - 1 John 4:2. "For many deceivers have gone out into the world, those who do not confess the coming of Jesus Christ in the flesh." - 2 John:7. The mystery of the Gospel is that God indeed became a man in the Person of Jesus Christ - truly God; truly man.
What does this mean for us? The answer is mysterious, dazzling and amazing!
Christ Crucified
1 Corinthians 2:1-5
Guest speaker Rob-roy Nelson preached this morning - a powerful word on "Christ crucified!"
When Paul came to Corinth there was something he didn't do; something he did do, and then he tells us why he did it. A message all need to hear.