God's Sovereignty, the Nature of Man and the biblical Gospel
Good times: Got to hang out with my friends at Apologia Radio for a two hour show, talking about God's Sovereignty, the nature of man, and the biblical gospel. The show airs tomorrow (Saturday) in the Phoenix area but can be heard online at this link now. - JS
Ask R.C. (again)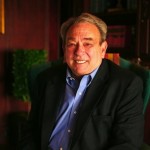 Answering theological questions from his students has been a continual commitment throughout Dr. R.C. Sproul's ministry. Originally called "gabfests" by his early students and later, "Ask R.C.," these sessions continue to take place at Ligonier conferences, on Renewing Your Mind, and online. The most recent "Ask R.C." live event on July 15, 2014 covered the following questions:
In 1 Samuel 28, was Saul talking to the real Samuel or a demon impersonating Samuel? (03:10)
Should the atmosphere of a church be towards the Christian, or the non-Christian? (04:30)
What does "By His stripes we are healed" from Isaiah 53 mean for Christians today? Does it imply physical healing in the atonement? (05:15)
Since your conversion, what are one or two of the most memorable or significant spiritual experiences in your life? (08:45)
Who are your heroes of the faith? (10:23)
If Dr. Sproul were to nail a modern 95 Theses to the Wittenberg door today, what might be his top two to three issues for the church to address? (12:35)
How can we defend the doctrine of sola Scriptura using Scripture? (15:53)
How does the fact that all people know God, based on Romans 1:18, affect our defense of Christianity? (23:46)
In 2 Samuel 6 when King David got the ark back from Obed-edom he then put on an ephod and offered a sacrifice to God. Since he was not a priest, how was that acceptable to God? (29:51)
Does the casting of lots to make decisions still have a place today? (31:30)
Is there any evidence of Adam and Eve's repentance and faith in Christ after the fall? (34:35)
Do you believe we're living in the end times that we read about in the book of Revelation? (36:47)
Dr. Sproul, you hold to what's called a "partial preterist" view of eschatology, is that correct? (41:19)
How does "For many are called but few are chosen" (Matt. 22:14) fit in with unconditional election and irresistible grace? Is the definition of "called" different there then its use in Romans 8:30, "…those whom he called he also justified"? (46:43)
Do you agree with the phrase, "All Scripture is equally inspired, but not all Scripture is equally applicable." (49:55)
How should the church react to its members who sanction homosexual marriage? (51:44)
Dr. Sproul, could you comment on the significance of ordinary means in our lives, particularly in light of the view that some people espouse that we just need to sit back and wait upon the Lord to do everything for us? (54:14)
Is there a biblical church history that we can follow back to the establishing of the church that does not have ties to Roman Catholicism? (63:45)
Why did Dr. Sproul write a children's book on Martin Luther, and is he going to write any more? (66:46)
What is the Reformed view of vocation, and have you ever written a book on that? (68: 03)
To what was Jesus referring to when He said in John 3:5, "…unless one is born of water…"? (70:20)
How many days was Jesus in the grave, two or three? (71:24)
Is there any remnant of the image of God left in man? How does this relate to total depravity? (71:59)
Dr. Sproul, what is driving you in your ministry today? Why is the gospel, the holiness of God, and this ministry so important today? (74:10)
Here's the link to the video.
Uprooting Anger by Robert D. Jones
Pg. 103-104
How can you uncover your concealed anger and replace it with godly fruit? Can people really change? What directives can we offer Jill and other anger concealers like her?
1. See the sinfulness and ugly consequences of your bitter heart and concealing behavior.
As we saw in chapter 3, you must identify and expose the idols in your heart, those entrenched desires and demands. While the desires themselves are not necessarily evil, they become evil when they rule your heart. Good desires easily become bad masters. Journaling helps you detect such idols and learn from anger episodes what changes are required
One useful homework assignment is to list specific negative consequences-in relation to God, others, and yourself- of harboring anger. What will result if you continue to conceal your anger? Consider inviting your spouse and friends to add to your list.

2. Turn to Jesus Christ in repentance and faith, and believe that he fully forgives you.
Having seen the sinfulness of your anger-concealing, believe in God's provision of abundant grade in Jesus Christ. He died and rose not only for hot heads (flagrant sinners) but also for clammers (silent sinners who hide their anger). In light of his gracious promises, confess your sinful heart idols and clamming actions and receive his forgiveness. Furthermore, believe that there is help and hope in Christ. God's grace not only forgives but also changes sinners. One reason why many Christians make little progress overcoming concealed anger is that they doubt God's transforming grace. He can melt your bitterness and make you a forgiver.

The Exemplary Husband by Stuart Scott
Pg. 97-98

What we worship is our passion. When we are passionate about something other than Christ, we will have the wrong desires and expectations. When we are passionate about Christ alone, we will have the right desires and expectations. In turn those desires will have a profound effect on our decisions, our actions, and our joy.

Some wrong desires and expectations in our marriages:
That my wife will please me with her physical looks and dress, her talents, abilities and accomplishment outside the home.
That I could do what I really like to do with my time.
That my wife wont be late or keep me waiting.
That my wife will be the sexual initiator, or be ready sexually when I desire her. That she would be the perfect sexual partner, no matter what is asked of her.
That she would treat me with respect
That I would know/find total love on a human level
That there would be peace and harmony around me always.

Some right desires and expectations:
That I may know Christ and delight to walk with him (Phi 3:10-14)
That I may know God's word and obey it (Ps 119:18)
That I may seek Christ with my whole heart and become like him (Ps 119:2)
That I may used of God to witness for him (Mt 28:19-20)
That I may be pleasing to Christ regardless of my circumstance (2 cor 5:9)

Seven Hours of Dividing Lines
Throughout 2014, while Dr. James White has been away on various ministry trips, I have had the distinct honor and privilege of guest-hosting his "Dividing Line" broadcasts. This allowed me the opportunity of teaching on some major doctrines at the heart of the Christian faith. Here are the youtube videos (all in one place) - JS:
Hour 1. "Law and Gospel."
Hour 2. "The Five Solas of the Reformation."

Hour 3. The "T" in the TULIP, "Total Depravity.":

Hour 4. The "U" in the TULIP, "Unconditional Election."

Hour 5. The "L" in the TULIP, "Limited Atonement."

Hour 6. July, 2014: Continuing on from Dividing Line broadcasts earlier in the year, here is teaching on the "I" in the TULIP, "Irresistible Grace."

Hour 7. July, 2014: The conclusion of the TULIP series - the Perseverance (or Preservation) of the Saints:
Saints Preserved!
Once again I had the privilege of guest hosting on Dr. James White's Dividing Line broadcast and concluded the TULIP series with the "P" - the Perseverance (or Preservation) of the Saints. I actually recorded the show last week but there were so many technical problems with the original recording that I came in to the studio for a complete redo today. Here is the program: - JS
What is the Gospel? by Greg Gilbert
Pg. 68-69
The Heart of the Gospel
Sadly, this doctrine of substitution is probably the one part of the Christian gospel that the world hates most. People are simply disgusted at an idea of Jesus being punished for someone else's sin. More than one author has called it "divine child abuse". And yet to toss substitutionary atonement aside is to cut out the heart of the gospel. To be sure, there are many pictures in Scripture of what Christ accomplished with his death: example, reconciliation, and victory, to name three. But underneath them all is the reality to which all the other images point—penal substitution. You simply cannot leave it out, or even downplay it in favor of other images, or else you litter the landscape of Scripture with unanswered questions.
Why the sacrifices? What did the shedding of blood accomplish? How can God have mercy on sinner without destroying justice? What can it mean that God forgives iniquity and transgression and sin, and yet by no means clears the guilty (Ex. 34.7)? How can a righteous and holy God justify the ungodly (Rom 4:5)?
The answer to all these questions is found at the cross of Calvary, Jesus' subsititionary death for his people. A righteous and holy God can justify the ungodly because in Jesus' death, mercy and justice were perfectly reconciled. The curse was righteously executed, and we were mercifully saved.

Simply Irresistible
Man will always resist the grace of God in the gospel until God decides to overcome his resistance. Today I had the privilege of once again guest-hosting one of Dr. James White's dividing line broadcasts and got to talk for an hour about the often misunderstood doctrine of "Irresistible Grace." I trust it will be a blessing to those who watch: - JS
Top 10 Books on Theology & Piety

Top 10 Books on Theology
Click Here to Purchase any of these Books
Institutes of the Christian Religion, by John Calvin
The book was written as an introductory textbook on the Protestant faith for those with some learning already and covered a broad range of theological topics from the doctrines of church and sacraments to justification by faith alone. It vigorously attacked the teachings of those Calvin considered unorthodox, particularly Roman Catholicism, to which Calvin says he had been "strongly devoted" before his conversion to Protestantism. The over-arching theme of the book--and Calvin's greatest theological legacy--is the idea of God's total sovereignty, particularly in salvation and election.
The Economy of the Covenants, by Herman Witsius
This, his magnum opus, is a reflection of some of the most fruitful and mature thinking on federal theology during the seventeenth century, and still holds a preeminent place in our own day. Reformed theology has always understood the biblical doctrine of the covenant to be the theological framework which best unifies Scripture, making it a consistent hermeneutic. In this two volume work, Witsius, presents the reader with a fully biblical and experiential doctrine of the divine covenants; opening up their nature, stipulations, curses, and blessings. Anyone interested in Reformed theology should read this book, for it is Reformed theology at its best.
Institutes of Elenctic Theology, by Francis Turretin
The best systematizer of the reformed doctrine in the world! This is a wonderful set, with a good translation, well arranged, theologically sound and deep but devotional/experimental as well. A great addition to the library of the serious students of the God's Word!
The Westminster Standards
The Westminster Standards is a collective name for the documents drawn up by the Westminster Assembly (1643–49). These include the Westminster Confession of Faith, the Westminster Shorter Catechism, the Westminster Larger Catechism, the Directory of Public Worship, and the Form of Church Government,[1] and represent the doctrine and church polity of the English and Scottish Reformation. The Westminster Confession of Faith and Larger and Shorter Catechism have been adopted as doctrinal standards by a number of Reformed and Presbyterian Christian denominations.
Bondage of the Will, by Martin Luther
The Bondage of the Will is fundamental to an understanding of the primary doctrines of the Reformation. In these pages, Luther gives extensive treatment to what he saw as the heart of the gospel. Free will was no academic question to Luther; the whole gospel of the grace of God, he believed, was bound up with it and stood or fell according to the way one understood it. Luther affirms our total inability to save ourselves and the sovereignty of divine grace in our salvation. He upholds the doctrine of justification by faith and defends predestination as determined by the foreknowledge of God.
Marrow of Theology, by William Ames
One of history's most influential Christian writings presents the Puritan understanding of God, the church, and the world. Now in modern English. This masterpiece was written in order to boil all the arguments of systematical theology down to their essence, so his readers would have the MARROW of each point at issue.
Systematic Theology, by Charles Hodge (3 Volumes)
The magnum opus of one of America's most prominent theologians offers an in-depth exploration of theology, anthropology, soteriology, and eschatology. This monumental work, now a standard for theological students, was written while Hodge served as a professor at Princeton, where he permanently influenced American Christianity as a teacher, preacher, and exegete. Includes a comprehensive index.
The Art of Prophesying by William Perkins
Perkins provides basic guidance to help all Christians to read and use the Bible intelligently. He has a particularly powerful message for those who lead God's people and especially those who preach. The Art Of Prophesying carries sparks capable of igniting a preacher. It should be beside every minister's desk as a book to turn to again and again. The Art Of Prophesying will be invaluable reading to any lay person or lay minister seeking a spiritual renewal for themselves, their love ones, or their communities of faith. -- Midwest Book Review
Historical Theology, by William Cunningham
William Cunningham (1805-1861) was an Scottish theologian.
His lectures surveying the history of theology, delivered between 1847 and 1861, became the basis for his Historical Theology. It remains a classic in the Reformed and Presbyterian tradition. Kindle Version
The Marrow of Modern Divinity by Edward Fisher
When you read Fisher's work, and in particular this edition of it, you will come away with much more than just Fisher's (significant!) wisdom; for Fisher himself mined the treasures of all the Reformers before him, and he quotes extensively from Luther, Calvin, and others; and in this edition, the very extensive commentary of Thomas Boston (one of the greatest Puritans) is included in an easy-to-follow format. Boston's comments alone would be worth purchasing, and contribute no small incentive to acquiring the Marrow. I hope may readers will put this treasure trove to good use.The Marrow of Modern Divinity (Free eBook) by Edward Fisher
Other Books that Could Have been on this list.
The Works of Jonathan Edwards
The Complete Works of John Owen
Disputations on Holy Scripture by William Whitaker
Van Til's Apologetic Readings and Analysis by Greg Bahnsen
A Treatise On Regeneration, by Peter Van Mastricht
Click Here to Purchase any of these Books

Top Ten Books on Piety, Sanctification, Spiritual Growth
The Gospel Mystery of Sanctification:
Growing in Holiness by Living in Union with Christ
by Walter Marshall - Perhaps the best human-authored book on sanctification ever produced.
The Life of God in the Soul of Man by Henry Scougal
Critical work! Sanctification occurs because the human soul has been united to Christ and participates in the divine nature. A person is a Christian because of what Christ has done for us, not what we do for ourselves. The Christian life is the same as He and continues to live and intercede for us. He is our sanctification.
The Practice of Piety by Lewis Bayly
Written originally in 1611, The Practice of Piety is a powerful work on Christian piety and practical living. Deeply influential on the Puritan movement, The Practice of Piety systematically investigates piety, beginning with a detailed account of God and Christ. In it, Bayly contrasts the "misery" of someone not reconciled to Christ with the happiness of the "godly man" who is reconciled to God. Bayly diagnoses the various problems that keep people from experiencing true piety, offering solutions to each so that one may remain pious in one's everyday life. However, the majority of The Practice of Piety is various meditations and prayers for believers, which Bayly intended to advance piety. Extremely practical and personally enriching, The Practice of Piety is bound to change the way one lives.
The Bruised Reed by Richard Sibbes
If you lack assurance, are hurting, weak and suffering under the burden of sin, read this book, and by reading you will be amazed how helpful this is to yourself and your ministry to others.
The Mortification of Sin by John Owen
Truly an amazing book. John Owen never dissapoints. Our favorite Puritan author. In a related work, Owen's treatment of the Holy Spirit is the finest we have ever read.
Crook in the Lot by Thomas Boston
One of our favorite books of all time. While this book is about providence and the sovereignty of God, the depth of Boston's biblical insight will help you better get a bird's eye view of reality resulting in a life of genuine piety. We studied through this book with our early morning men's group and the result was changed lives.
The Fear of God by John Bunyan
This is a great book to give anyone new to the faith and a blessing to those who have already been Christians. A true classic which I am currently reading and benefitting immensely from.
The Doctrine of Sanctification by A.W. Pink
Here Pink compiles the best teaching on sanctification through church history.
Holiness by J.C. Ryle
Truly a rich little gem that is to be read and reread. Classic!.
The Christian in Complete Armour by William Gurnall
This is, no doubt, the most comprehensive work ever written on the subject of spiritual warfare. It is a massive tome, but there are few books in existence that I would recommend more highly. Very Edifying. A must own for your library.
The Intolerance of Tolerance by D.A. Carson
Pg. 111-112
Truth Grounded in Revelation:
The revelation has come to us in the natural world, in great events of miraculous power attested by witnesses, in the personal work of the spirit of God, in the enormously rich variety of writings that make up the Bible, and supremely in the person of Jesus Christ. These are not mutually exclusive channels. For instance, most of what we know propositionally about Jesus is found in the Bible, including those parts that preserve the testimony of witnesses – so here we have Jesus himself, witnesses who have left words about him, and the Bible that preserves them and conveys them.

First, the content can be indeed, has been- put into propositions, creeds, catechisms, statements of faith. It has substance. Of course there is an interpretive element in all our confessions, for finite beings cannot know anything without interpreting it. Only omniscience can escape the limitations of perspectivalism- of looking at things form a limited perspective. But that does not mean that all perspectives are equally valid, or that there is no truth in any particular interpretation.
As Christians band together to study the Bible, they come to convictions about what the Bible is saying- and that leads, rightly, to shared creeds that are modifiable only by more light from the Bible itself. Our confession of such truth cannot participate in the perfection of omniscience, but it is nonetheless valid and appropriate to the limitations of our finitude and our fallenness. Better yet, it is made possible by a gracious god who condescends to disclose himself in human words, and by the Spirit who convicts rebels of sin and illumines darkened minds.